This November we will offer a new program: Understanding Global Macroeconomics, led by Peter De Keyzer (University of Antwerp).
Managers, especially those working in the finance sector, are bombarded by macroeconomics and financial news from around the world. Since almost all decisions in this increasingly interconnected world depend on both macro and foreign developments, it is important for managers to understand how to integrate this information into a coherent framework.
In the Understanding Global Macroeconomics course the participants will be introduced to various aspects of macroeconomics and will get acquainted with the main concepts and policy debates. In the two days, we will look into theoretical foundations of the macro economy: aggregate demand, aggregate supply, fiscal policy, as well as monetary policy. We will equally examine the international economy, exchange rates, trade policy and optimal currency areas. After each theoretical introduction we will look into practical applications: from Brexit to climate change policy, from inequality to central bank independence, and from the Big Mac Index to the current wave of protectionism. The focus will be about 25% on theory and 75% on real-world applications.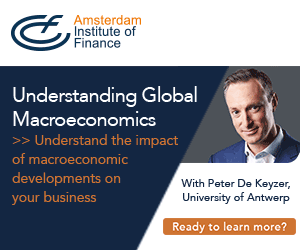 About Peter De Keyzer
Peter has extensive experience as an Economist and Chief Economist at KBC Asset Management, ABN AMRO Bank, Petercam and BNP Paribas Fortis. He is a Guest Lecturer at the University of Antwerp and has held teaching positions at various other universities. Peter has over a decade of experience in giving presentations, moderating debates, and participating in interviews and press conferences. He is a regular contributor to Belgian and international press, writing on topics related to economic growth, Eurozone, demographics, and financial affairs. He is the Co-Founder and Managing Partner of Growth Inc., a Belgian-based advisory firm, and a Member of several advisory boards. Peter De Keyzer graduated magna cum laude with a Master's degree in Economics from the University of Antwerp.
Find out more & reserve your seat.
Join ambitious professionals for the two day 'Understanding Global Macroeconomics' program, taught by Peter De Keyzer (University of Antwerp) at Amsterdam Institute of Finance.