Private equity has commanded a bad reputation in recent years for introducing high debt levels and dramatically cutting costs in investee companies. But global investors are falling back to private equity models that create sustainable value instead of immediate profits.
Although the private equity industry has played a crucial role in driving economic growth by creating jobs, generating returns for investors and building better businesses, it has largely commanded a bad reputation in recent years.
Private equity firms have been criticized for pocketing controversial profits while saddling the companies they invest in with crippling debt and trimming costs through job cuts. When a private equity firm exits its investments after a particular period – usually after five or ten years – the investee company is often left distressed. It is the corporate raider-like nature of the private equity industry that has conjured up more fear than admiration about the industry.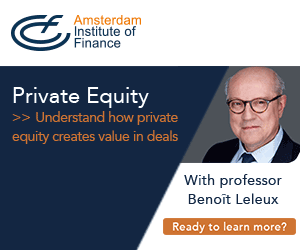 The bad perception about the private equity industry is one that Dr Benoit Leleux, a professor at Switzerland-based International Institute for Management Development (IMD) Business School, is passionate about debunking. For 15 years, he has been running a private equity course at the Amsterdam Institute of Finance (AIF), which is designed as an introduction into the industry for non-specialists. And this year won't be different as Benoit will deliver a three-day course on private equity in September for the 16th consecutive year.
Benoit concedes that the private equity industry has commanded a chequered past since the '80s. Arguably, people wouldn't be blamed for thinking that the industry hasn't reformed from its bad modus operandi. However, he says more industry professionals are realizing that the bad model of private equity, which entails high leverage and executives who extract massive profits from investee companies, is not sustainable.
Creating value is more sustainable than cutting costs and firing people
"After the global financial crisis of 2008, we saw a more sustainable model in the private equity sector. Industry players are falling back to value creation models of using debt in deals but not to extreme circumstances," he says.
Beyond the approach to debt, many private equity firms are taking a long-term investment horizon in companies they invest in. Some don't even have prescriptive exit periods on investments (some private equity funds exit after 15 years). Some private equity firms even view the management of companies they invest in as equal partners instead of vehicles of driving profits and returns.
"The industry figured that creating value which creates good returns in a world that is very competitive, is more sustainable in the long run than cutting costs and firing people," says Benoit.
This is the message that Benoit will be driving during his AIF course. Private equity as an investment discipline can be technical especially for non-specialists and people who are not well-versed about the industry. Understanding the mechanics of calculating an expected rate of return, structuring a private equity deal and leverage can arguably be intimidating and put people off from wanting to get a deep understanding of the industry.
"However, my course won't be technical. It will delve deep into the function of private equity, understanding how to read the numbers and industry dynamics in three days. A lot of corporates have to sell their funds to private equity firms. Many people will encounter private equity in their line of work as it is a driver of mergers and acquisitions activity."
Benoit is familiar with the private equity world as he was first introduced to it 20 years ago.
Prior to pursuing a successful academic career with research interests spanning across entrepreneurial finance, small medium enterprises, venture capital and private equity, he was the head of corporate venturing for a leading agribusiness conglomerate in South East Asia. This was where he first brushed with the private equity model.
"I was dragged into deals by default. I discovered a world that I was not familiar with. But I found out that a number of companies were desperately looking for new owners for their businesses. I assisted many businesses that were looking for new owners and helped facilitate transactions from a sell side."
He went on to engineer an academic career that has seen him earn a Master of Science in agricultural engineering, Master of Education in Natural Sciences from the Catholic University of Louvain (Belgium) and a Master of Business Administration from Virginia Tech (USA).
Benoit was previously Visiting Professor of Entrepreneurship at INSEAD and director of the 3i VentureLab and Associate Professor and Zubillaga Chair in Finance and Entrepreneurship at Babson College, Wellesley, MA (USA) from 1994 to 1999. He obtained his PhD at INSEAD, specializing in Corporate Finance and Venture Capital. He is an accomplished author, having written multiple books on topics including, among others, the mechanics of private equity and entrepreneurship.
What to expect
Benoit says teaching people about the murky world of private equity and the good and bad side of the industry is his passion. "I want people to feel comfortable with how the industry functions. I want them to know what kind of questions to ask when they are involved in a deal or when talking to private equity professionals," he says.
This is the same philosophy that Benoit will apply at his AIF course. Judging by past experiences, he says the course attracts a mix of participants who are not from the private equity world – including journalists, bankers, consultants, and lawyers. Unlike courses that are anchored on high-level theory, Benoit will be taking a more practical approach to his course. It will examine actual contracts that are involved in private equity deals and various returns on capital generated.
"I will show them the financial incentives that private equity specialists generate on deals, the real cash flow of a private equity investment, how a basic deal is done between funds and other investors, and look at big players in the private equity ecosystem."
Benoit stresses that his role at the course is from a perspective of a private equity practitioner and entrepreneur, and not from an investor point of view. "It has always been a fun course to teach. I have always enjoyed it, hence why I am doing for the 16th year," he says.

Join ambitious professionals for the three day 'Private Equity' program, taught by Professor Benoît Leleux (IMD in Lausanne) at Amsterdam Institute of Finance.