"Many organizations see digitalization as an extension of what's already here and have trouble taking advantage of the opportunities", says Professor Karel Cool, who sees companies struggling to take the next step.
"Seizing opportunities is difficult for companies that compete with the logic of traditional industries. It's much more winner-takes-all than it used to be. I'm not saying the enterprises don't get it, but getting it is only the first step. The second step is doing it."
Getting it is only the first step'
The Flemish Cool, Professor of Strategic Management and the BP Chaired Professor of European Competitiveness at the French institute INSEAD, has extensive experience when it comes to competitiveness in increasingly digital times. He's a consultant, he teaches and he does research. For years, he's been writing cases about the travel sector, the insurance sector and the banking sector, amongst others.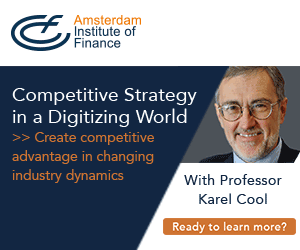 "Digitalization happens to be a very current topic, but the ecological logic behind the phenomena has been widely recognized for years. It was there in 2000, mainly in certain sectors like communication and media."
Cool speaks with the calm of someone who knows his business. "There are many things I know nothing about, but this I know."
"For example, I worked in the online, digitizing travel sector for many years. Leading competitors who suddenly found themselves lagging, such as TUI, Kuoni and Thomas Cook, were forced to innovate, but largely failed. From being a sector with many companies in many countries, it has become a global duopoly between Expedia and booking.com, with only crumbles left for the others."
'If opportunities are not seized, value is being destroyed'
"Meanwhile, technological advancements are continuing without slowing down. Opportunities exist in a large number of different sectors and if they are not seized, value is being destroyed. What's important to note, first of all, is that many organizations want to take the next step, but don't know how."
"Additionally, the new way of competing is changing the way companies need to allocate funds. It's about large investments in an early stage – battles of funding. While traditional enterprises are geared towards a smooth functioning business, careful expansion and not rocking the boat, startups are better at understanding this new competitiveness."
Impossible for an amateur to find a way in
"There are many (apprentice) sorcerers out there, but this is a very technical subject. Companies such as Google and Amazon have the largest economic departments in the world. Google's chief economist Hal Varian, for example, has a private army at his beck and call. This means that it's impossible for an amateur to find a way in. Attempts to do so will be crushed immediately."
Towards the end of this year, Cool will teach the course Competitive Strategy in a Digitizing World at the Amsterdam Institute of Finance. Organizations that want to be able to create competitive advantage in a digital world will find their questions answered here. Cool teaches this course with Frans van Loef, who will explain how organizations can create space to successfully execute strategy.
"He has helped many companies of all sizes make choices", says Cool about his colleague. "Listening to him, and hearing what he had to say about transformation, I thought: that would be an excellent combination. Then, people would know precisely what to do and how to do it."
Find out more & reserve your seat
Join ambitious professionals for the three day 'Competitive Strategy in a Digitizing World' program, taught by professor Karel Cool (INSEAD) at Amsterdam Institute of Finance.