This November AIF offers a new program: Managing Corporate Turnarounds, led by Professor Joost de Haas (INSEAD).
Companies end up in financial distress for a variety of reasons and in different degrees of severity, ranging from 'plain loss' of shareholder value to liquidity crisis and (eventually) bankruptcy. Management and/or turnaround professionals – at any point along the path of decline – try to avoid further deterioration of financial distress and subsequently regenerate value for old and new stakeholders by turning the business around and restoring its cash-generating capacity.
The Managing Corporate Turnarounds course uses a web-based simulation that will take you through the various stages of a turnaround process (of a car manufacturer). The simulation is designed to enhance your understanding of the connection between financial and operational processes, and the trade-offs between short-term survival and long-term recovery. Even if you will never end up in a turnaround situation, this course will substantially increase your understanding of how companies work and how to manage cash.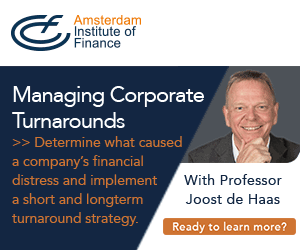 About Joost de Haas
Joost de Haas is an Adjunct-Professor of Entrepreneurship at INSEAD since 2009, where he teaches 'Managing Corporate Turnarounds' in both the MBA and EMBA programs.
Joost has (co)founded a number of businesses in various industries, has acquired and turned around several companies and has been active in turnaround management since 2001. Until recently, Joost was the CEO of Roto Smeets Group and Executive Director of one of Europe's leading printing and multimedia companies.
After graduating with an MBA from INSEAD in 1986, Joost joined McKinsey & Company. Upon leaving McKinsey he has held several executive and senior management positions in mostly FMCG and telecommunications companies, before turning an entrepreneur in 1994. His core skills include restructuring companies through operational and financial engineering, as well as growing and financing fledgling companies.
Joost holds a Master's degree in Quantitative Business Economics and a Bachelor's degree in Law from the Erasmus University Rotterdam and an MBA from INSEAD.
Find out more & reserve your seat
Join ambitious professionals for the three day 'Managing Corporate Turnarounds' program, taught by Professor Joost de Haas (INSEAD) at Amsterdam Institute of Finance.